Historic Preservation Committee Awards Historic Preservation Leaders
Awards are to be Presented at City Council, Tuesday, June 6, at 5 p.m.
Contact: Kirsten Armstrong, Principal Planner Historic Preservation, kirsten.armstrong@aspen.gov
Aspen, Colorado – June 5, 2023 – The City of Aspen's Historic Preservation Commission will present its annual awards during City Council's meeting on Tuesday, June 6 at 5 p.m. The awards have been given for over 30 years to recognize projects that have made an outstanding contribution to historic preservation in Aspen, and to thank those responsible.
This year HPC will honor the Wheeler Opera House
The Wheeler Opera House located at 320 E. Hyman Avenue is a three-story theater building with additional commercial space constructed in 1889, blending the Italianate and Romanesque Revival architectural styles.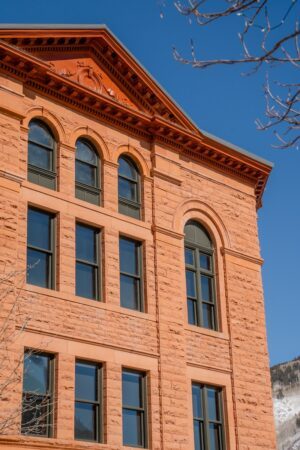 It was originally financed by Jerome B. Wheeler, a New York investor who figured prominently in the Aspen area in the late 19th Century. Designed by W. J. Edbrooke, it was the third largest opera house in Colorado at the time that it was built, and it was made with local peach blow sandstone from the Frying Pan Valley. Its architectural style, opulence, and performances facilitated by the Silver Circuit association gave the mining town of Aspen a sense of prestige and community.
It was listed on the National Register of Historic Places in 1972 and was designated a local Aspen landmark in 1981 for its architectural significance and its contribution as a cultural center in Aspen.
The building recently underwent a multi-year exterior restoration which included investigation of its historic materials, replacement of sandstone where needed, and tuckpointing.
Replacement sandstone was sourced from a quarry in Wyoming and was carefully cut based on measurements taken in the field and the historic investigation. Additional investigation on paint type and color occurred, resulting in the stripping of paint where it did not historically occur and the stripping and re-painting of certain features with a more historically accurate color. The work included the reversal of alterations that had been completed over the years, allowing the building to be appreciated under its original intent.
"It's an honor to get to work on a building with a history like the Wheeler and I'm proud of the restoration work the team completed," said Robert Schober, Director of Asset Management at the City of Aspen.
Recognition for this successful project is given to the City of Aspen; Summit Sealants; Concept One Group; Mills+Schnoering Architects; Forrest Painting; KL&A; Built Environment Evolution; and BendonAdams.